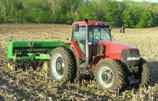 central - east central Minnesota -
iluvafarmer - 10/16/2011 13:10

I have a friend that has snakes in her basement... I would like to know if there are any of you that have had this problem and how you have been able to get rid of them... I have googled and yes get all kinds of hits... Most of them want to sell you something... It is not a problem to buy a product to get rid of them but I would like to know what has worked for you please... They are bull snakes and garter snakes... Thank you for your help... Betsy


There are only 2 reason's snakes would be in a basement -
1. The basement was their homeland first -before being built . . . .
2. Food and habitat is ideal for them . . .

I would suggest getting rid of the food / habitat and after a few yrs (yes, it takes that long to ensure they are either dead, moved on to better food / habit or retrained).
I'd be willing to bet, the outside of the foundation is full of overgorwn weeds, taller grass, wood chips, brush or overgrown stuff.
Get rid of it - scrap it down to dirt and out several feet.
Now look at the foundation - plug all holes up. Water can find the smallest cracks to get in a basement - so will snakes, mice and other insects. Spend some money and excavate down a ways and start caulking and plugging holes - then regrade. Don't forget to seal between where the foundation and sideing meet.
Now do some landscapeing with products that will not promote habitat for insects, rodents or snakes. (concrete works good).
Clean up the rest of the yard - good green maintained lawn goes along way to keeping insects, rodents and snakes away.
I recently started (last 3yrs) spraying a property line fence, (that's been a over grown mess), that's about 100ft away from our house/yard with Glypho . .. the mice and chipmunk population is pretty much gone. No mice trying to make their way toward my house anymore.
It doesn't take any "wonder" product to rid a residence of pests - just some common approches to make their enviroment not very friendly - and they will move on . . .
If the yard is clean and the home is build in a snake neighborhood (know of a house that was). Then sealing holes is the primary thing to helping them move on to better habitit/food.