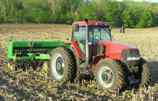 central - east central Minnesota -
farmwithjunkrrv - 5/2/2021 21:33 We have 4.6mm ( quarter inch) in the gauge now looks to be about done. That won't do much but better then nothing.Got the Oats and wheat done waiting for it to warm up more for canola and soybeans. There are lots of flea beetles around already.
It was lightly raining from 9am - 1pm sunday - I started no-till drilling beans at 8am (only had 30 acres left for the year) and by 10:45 was too wet to finish. Only had about 45 min left and would have been done. Went out at 3 pm as it seemed dry enough - Nope, plugged up 5 rows on the drill (need new boots and blades - always the adverse conditions that show the wear and need for new parts). This was in heavy clay ground - I don't thing we ended out with more then 2 tenths for the morning.