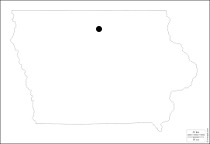 n.c.iowa
So here's the gig on brooks lake lodge.

So...we heard the same thing, Sat. afternoon found us in that area, I've never been in the lodge before, but heard a few stories about how nice it was, it snowed all Saturday and about 2:30 I mentioned that I was getting alittle wet let's go to the lodge in brooks lake, if they don't let us in I guess nothing ventured, nothing gained.

So we pulled up beside the rental shack with the sleds, walked over into the lodge, a guy met us inside the front door and asked if we were guests at the lodge, we indicated we were not, he then lead us to the far back room where the fireplace was complete with coat and gear trees by the fire place and motioned us to hang our wet gear up.

after we got our gear off we were invited to go to the bar, or wherever we wanted in the guest lounge.....

There was a younger gal sitting at the end of the bar that kinda looked like somebody of importance there at the lodge, after abit we struck up a conversation with her. I guess I never did catch what she did there, but it turns out her husband was a guide there at the lodge, so amongst other things she told us that brooks lake lodge is a reservation only private lodge in the summer, but they have some kinda heritage, historical, or special certification from the state of Wyoming she thought.

So in order to operate under that designation/certification they have to allow the public in for a certain amount of time during the year. In order to keep within those guidelines they open to the public in the winter, because they figure that the public traffic is less, and more singular in the potential public guest coming through(snowmobiler).

So I kinda think they spread around that a reservation is needed to cut down on the traffic, but by Wyoming law from what we understand they can't deny the public entrance in the winter.