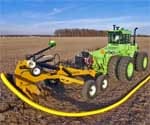 East Central Indiana
phishstik - 7/19/2020 23:26

Also, to add to the DJI issues. They seem to release a new model every year, and the old ones are quickly forgotten and support is sparse.



DJI customer satisfaction is all over the place. I bought a new phantom 3 pro straight from their website in 2017 for $685 and have been thrilled with it. Its only problem is keeping the horizon level while strafing. I fly it more than the average drone owner.