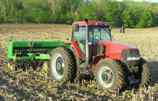 central - east central Minnesota -
John Smith - 6/9/2021 16:39
I am going to plant 1/2 acre of sweet corn following wheat harvest.
What will it grow like if I skip nitrogen application?
Probably around 14,000 population.
If you do not apply N, the ears may not fill properly or fill out to the ends. Would that be the end of the world ? Not for personal use, but if you plan to sell - the customer will not like it (unless they are vastly different then the customers here) . . . . ..